濕度感應器, 可直接與電腦系統連線

Direct moisture sensor to factory computer.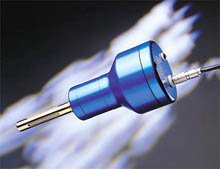 Simply connect the two wire sensor lead to the computer and for accurate calibration set 20 m/A that's it!
The new Shaw sensor connects directly to a factory computer line to measure the amount of moisture in dry air or gas without the need for a separate power supply or hygrometer.
With the sensor in room air, Shaw Automatic Calibration has entered the range of -80°C. which is less than 1 part per million of water vapour, to 0°C.
Technical details
Type. SSDIR. In line 2 wire 4-20 mA.
Ranges. SSDIR: -80 to 0°C. dew point at room pressure.
Other ranges available on request.
Accuracy. Guaranteed better than 1 part per million on dry air or gas.
Sensor type. Shaw Grey spot. Calibrated 4/20 milli-amps.
20 years life, Gold plated with fine gold filter. 2 years guarantee.
Weather proof rating. IP 65. Blue anodised finish.
Dimensions. 64 mm diameter. 170 mm overall length.
Weight. 370 g. Resolution 0.01 mA.
Twisted pair lead. 20 m/A. Length up to 1 Km.
Connection. Lemo 2 pin connector.
Power supply. 18/30 volt dc. Scada/DCS computer systems.
Sample pressure. To 10 bars. preferably one litre per minute
flow to atmosphere to avoid errors due to pressure variation.
Output. Fully isolated from process computer, acts as current drain.
4-20 mA proportional to dew point, on a 2 way power lead.
Any Shaw moisture sensor can be used in the connector provided.
The new SSDIR, Dry air hygrometers, water vapour pressure hygrometers scaled in milli-bars and pascals, Peltier cooled mirror hygrometers and Shaw Automatic Calibration were invented by Leonard Shaw,
Honorary Professor of Hygrometer Technology,
The Royal Institution of Great Britain.
Shaw have the World's largest Hygrometer sales.
Established 50 years.